Award-winning smartphone and accessories maker, itel, is here again with a bigger bang. This time, it is with the all-new itel P38 series released today, 17th of May 2022 to show the brand's resilience, innovation, and commitment to stay on point when it comes to quality smartphone delivery. This new release comes on the heels of the super successful itel P37 which, only months ago, was awarded the "Best Big Battery Smartphone of the Year" at the Beacon of ICT Awards 2021.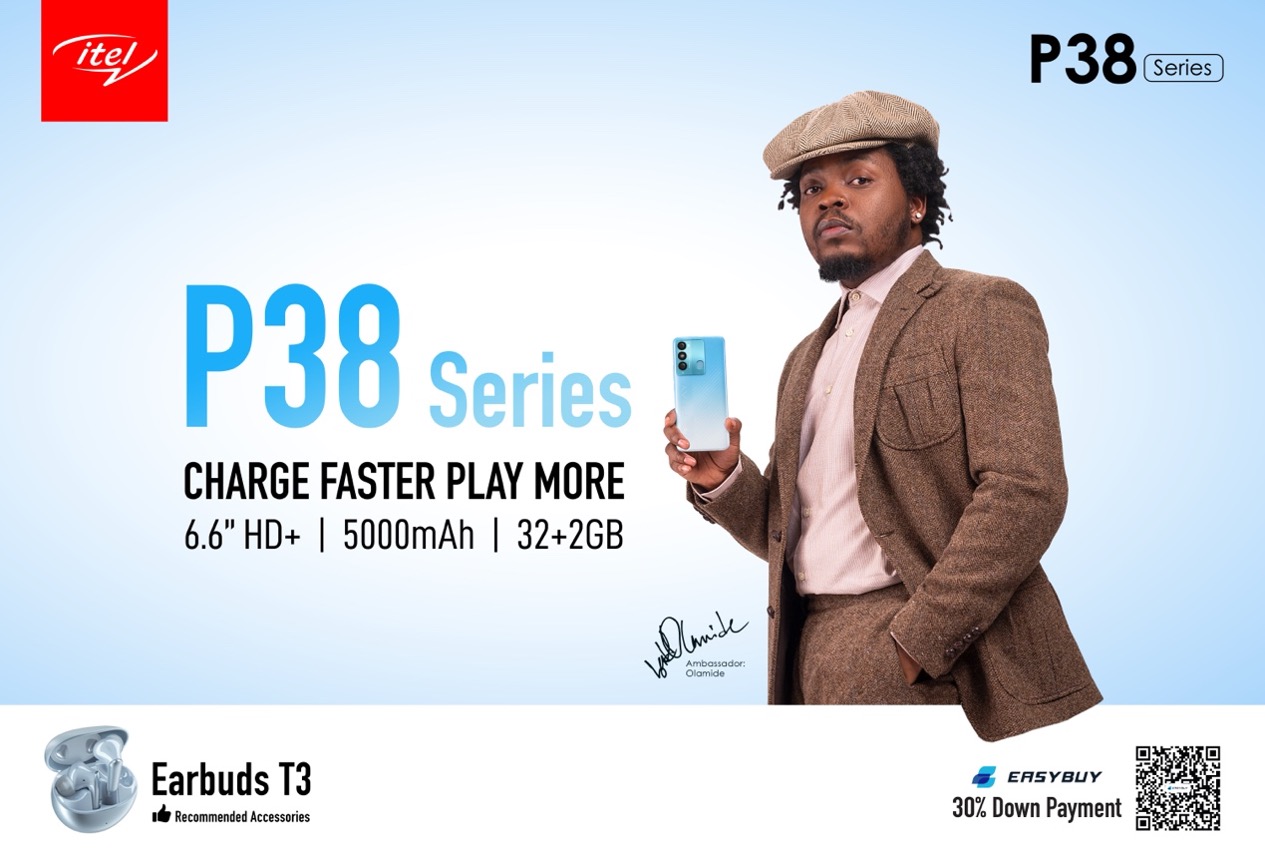 This new addition to itel's Power series, which includes the itel P38 and itel P38 Pro, is yet another bold statement that you can enjoy value, finesse, and quality- all in one device. From superior durability and big battery to fast charge, itel is ticking all the boxes on the checklist of every smartphone user. No one does it better, and little wonder its products have continued to garner awards and recognition for adding value to the lives of consumers and ensuring that everyone can truly "enjoy better life".
Charge Fast, Talk More
It's refreshing to see that itel understands the necessity of having a fully charged phone and doing so in no time at all. If you've ever been stranded due to a dead battery; you live in an area where you're never able to charge your phone up to 50% due to power outage, or your phone goes off less than an hour into a game on every single occasion, it is time to move over to a brand that understands the situation and offers you more talk and play time.
itel P38 Series Smartphone Has 18w Fast Charge and 6000mAh battery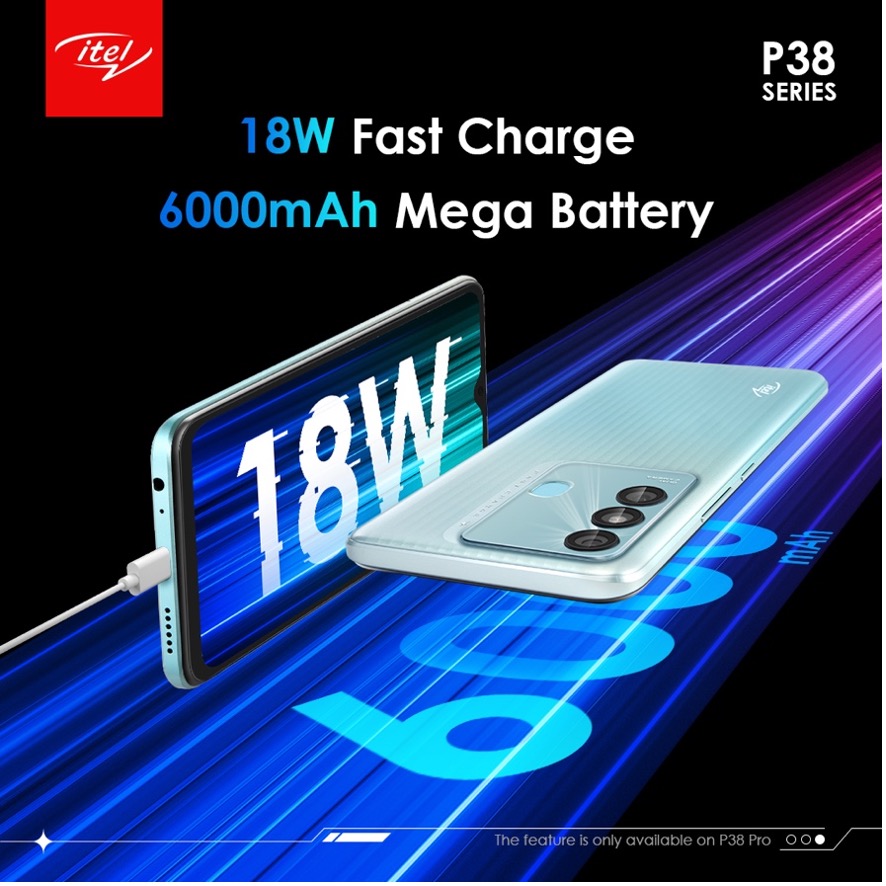 You no longer must wait for countless hours to see your phone fully charged. With the itel P38 series, itel's first offering of fast-charging smartphones, you can get a full 100% charge in 150 minutes- that's only 2½ hours. This is supported by the 3x fast-charge feature that offers 3 times the speed of other regular phones, most of which take as much as 7½ hours to fully charge. The itel P38 has a 15W fast charge technology feature that gives you triple fast charge action. With only 10 minutes of charging, you're guaranteed up to 3 hours of WhatsApp call.
Just when you think itel has done enough, it beats its own record every single time. The itel P38 Pro charges like a pro! With a more unique 18W Fast charge technology, it is the only model within its price range that can deliver such a feat. Now you can talk more, play more, and enjoy more phone time with superior technology designed just for you.
BIG on Memory
What's a smartphone without memory? Not just any memory, but big enough to afford you sufficient storage space and processor speed. The itel P38 series certainly checks that box. With a guaranteed 64GB storage on the itel P38 Pro, you get to enjoy enough storage space to save your files, whether official or personal. That means all your documents, favourite music, cool videos and even as many functional and seamless mobile apps as you want. But there's more; the itel P38 Pro also supports memory extension up to 256GB. Amazing right?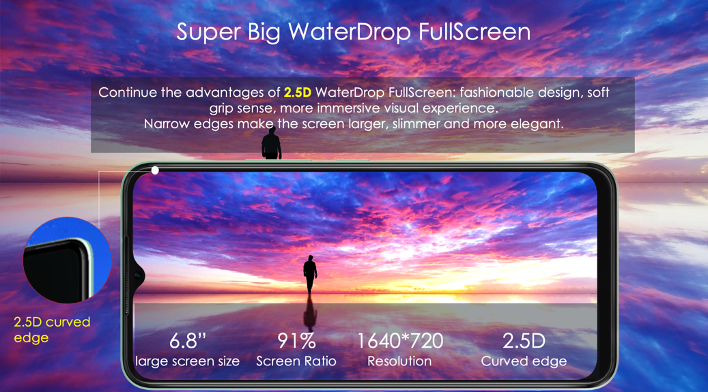 Whether you're a YouTuber, TikToker, or just big on videos and social media, this one's for you. And, if movies are your thing, itel's asking if you can keep up with the itel P38 Pro. With storage, itel P38 series has got you covered. The smartphones also feature an AI Gallery that compresses your photos intelligently so you can have more space to do much more. With the 'cleaner' function, your itel P38 series launches a quick phone sweep to clear unwanted files and improve your phone's long-term fluency and storage capacity.
Worry Less with the Battery Boss
The itel P38 series uniquely takes care of all power worries that users may have. The itel P38 boasts of a big 5,000mAh battery, so you can rest assured of quality time with your smartphone. To put this into context, that's 28 to 32 hours of voice calls, 15 to 18 hours of movies and videos on the TL, 158 hours of music, up to 18 hours of social media time, 8 hours of game time, 6 hours of selfie time, and lots more. On standby mode, the itel P38 will last for about 558 hours- that's more than 23 days!!!
It gets even more rewarding with the itel P38 Pro which comes with an outstanding 6000mAh battery. This ultimately means 823 hours on standby mode, 230 hours of jamming your favourite tunes, and up to 16 hours of quality game time. Now itel is bringing the "smart" back to smartphones.
When it comes to trailblazing technology and disruptive innovation, itel always comes through. The AI Power Master introduced by the Power Series in 2019 has been improved upon and embedded in this itel P38 series. The feature, which intelligently learns your usage habit, automatically adjusts the power consumption of the software from the background to achieve a balanced power saving. This means more power for your most used apps.
Fun, Fleek Slim fit Design
While many smartphone users are often asked to choose between functionality and appearance, itel says you can have both. The itel P38 series offers a unique blend of fashionable design and sleek outlook that gives you a sense of style and confidence. With a super slim frame, quality 13MP dual camera, unique colour scheme and ergonomic texture, and upgraded fingerprint sensor, the itel P38 series is the new definition of elegance and class; the outlook is both sparkling and attractive.
What about the screen? itel goes above and beyond with a charming 2.5D water-drop fullscreen, with a much more immersive visual experience of 91% screen ratio. Handling is made easier with a perfect blend of narrow edges and contour. This additional functional piece of design further makes the screen larger, slimmer, and more elegant. Even the fingerprint sensor at the back has been upgraded to withstand dust and handle cleaning, when necessary.
Same Affordable Price Point, Much More Value
itel still holds a reputation as one of the most affordable smartphone brands in Africa and Asia. With the new itel P38 series, the brand is consolidating its unique, customer-friendly price points. The itel P38 goes for less than N50,000 (fifty thousand naira) only, while the itel P38 Pro sells for less than N60,000 in stores nationwide. No other brand in its category offers as much value for such an incredibly affordable price.