By now, you must have heard about the all-exciting launch of the itel A60 by foremost smartphone makers, itel, and I am sure you also know by now that the device was unveiled in partnership with one of the world's largest mobile network providers, Airtel.
Also recall that at the official launch of the itel A60, it was disclosed that device taps into the 4G technology to deliver smooth internet experience and it is a given that for this to work, there must be a steady connection and of course, abundant data!
To this end, itel has made provisions for you to not just obtain the itel A60 at a mouthwatering N45,900 but also for you to have access to big data bundles at little cost, all thanks to the partnership with Airtel.
The itel-Airtel partnership is not just about signing documents and memoranda of understanding, but a deliberate partnership geared at building on the success of serving you and in keeping with the smartphone giants' culture of meeting all the phone needs of its customers.
This is why it can be established for a fact that the coming together of these two giants to deliver the itel A60 4G enabled smartphone is the best combination to come out of the smartphone-mobile network industry.
The smartphone is not just affordable, it comes out tops compared to other products of the same price and performance range. With its SC9832E and 32+2GB platform and memory, alongside other features, it is indubitable that itel did not come to play!
itel A60: 4G for Everyone and Amazing Data Bundles
Last year, Airtel ran a double data campaign where subscribers got data doubled to 3GB but this time, there's an even better deal on the itel A60. For six months, you do not have to worry about spending heavily on data bundles because itel and Airtel have got you covered.
What if you were told that on the itel A60, 1,000 naira would get you 5GB worth of data?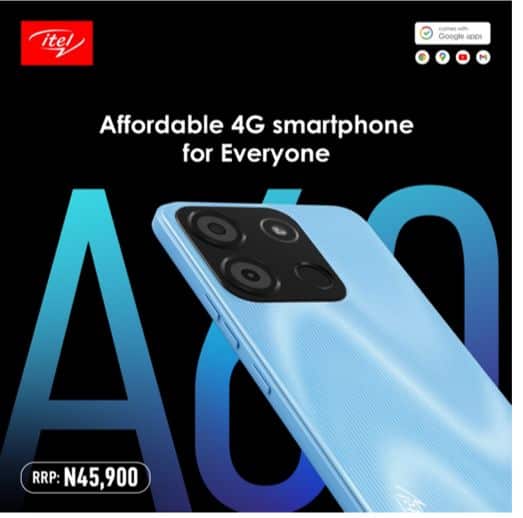 For the first six months after you purchase the itel A60, you get 5GB data every time you buy 1,000 naira airtime. The process of getting this is easy and time efficient. All you need do is send the IMEI number of your itel A60 Airtel and boom! You get a code to opt into the offer for six months!
What's your IMEI? It is the 15-digit number on the back of the itel A60's box, just above the bar code. If you are not an Airtel subscriber, here's your chance to join the winning team: itel A60 + Airtel= 4G for everyone, Big Data Plans and an all-round amazing mobile phone experience.

Existing itel consumers already know that it makes good on all its promises and that's why in the years past, it has recorded tremendous successes that have made it the toast of all and sundry. In 2022 alone, itel ranked 15th amongst Most Admired Brands in Africa (brand AFRICA). It also emerged the Most Popular Brand of 2021 (Mobility Excellence Award) alongside other awards like Champion of Rural Markets, Best Global Market-Performance Mobile Brand as well as Outstanding Services (CSR Award).

These, and many more, set itel apart from other brands in the smart phone industry and with the partnership with Airtel, you can rest assured that value for money is guaranteed and a new user experience like never before will be delivered.
Walk into any retail (or online) store and get your itel A60 today.